Each Spring Semester, Abilene Branch AAUW awards academic scholarships to women returning to education (aka non-traditional students).
*** Undergrad Scholarships are awarded to women 25 years or older currently attending college at the Universities / Colleges in Abilene, (ACU, Cisco College, Abilene Education Campus, HSU, McMurry, Patty Hanks Shelton School of Nursing, Texas Tech Health Sciences Center, Abilene Campus School of Nursing & School of Pharmacy).
*** Jewell Davis Scarborough Graduate / post-graduate scholarships are awarded to women 25 years or older currently enrolled in an accredited University pursuing a Graduate or Postgraduate degree.
Scholarship Recipients are presented and honored at the Annual Women of Outstanding Achievement / Women of Promise & Courage  Luncheon
Women of Promise and Courage Scholarship Recipients
2019 "Women of Promise & Courage" Scholarship Recipients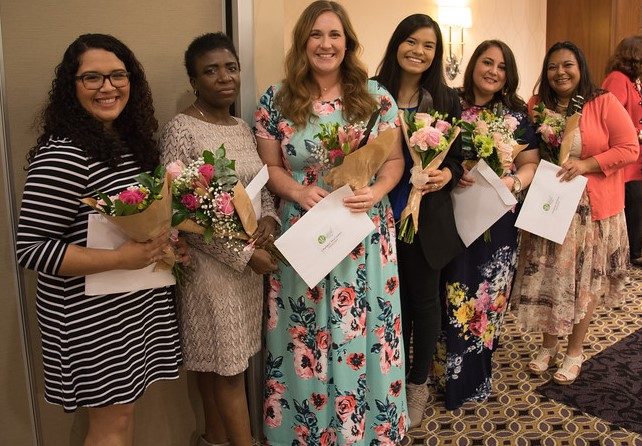 Undergraduate Scholarship Recipients   
Chelsea McCreary                  TTUHSC Abilene School of Nursing
Ifeyinwa Onyemelukwe        Hardin – Simmons University
Arianna Villa                           Cisco College, Abilene
Andrea Wilson                       Cisco College, Abilene
Graduate Scholarship Recipients
Andrea Levrets                       Hardin – Simmons University                                                                                           Patty Hanks School of Nursing
Cyanne Mayfield                     Abilene Christian University
2018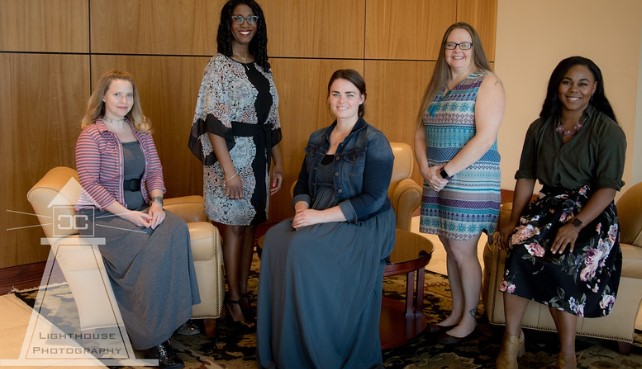 Under Graduate Scholarship: Heather Wheeler (Cisco College), Brittany Varner (ACU), Amy Bailey (HSU) & Nicole Francois-Sis (TX Tech Univ. Health Science Center School of Nursing), Graduate/Post Graduate Scholarship: Lindsey Palmer (ACU) & GaBriele Mallet (AZUSA Pacific Univ. on-line studies) Photo Courtesy of Lighthouse Photography)
2017
2016
Spring 2015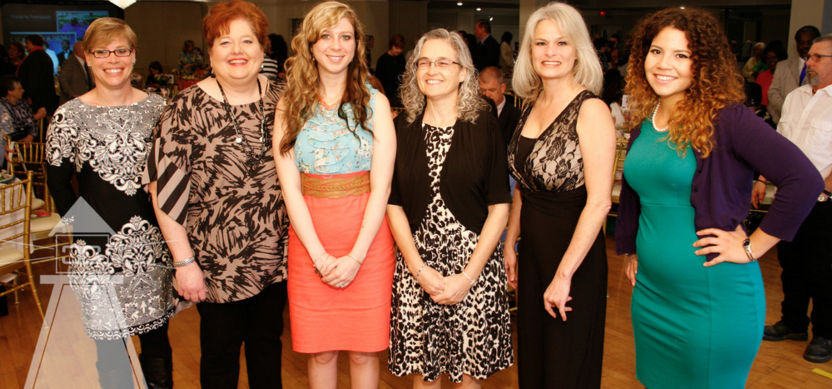 Left to Right: Dawn Hill, Dana Mayhall, Adrienne La Porta, Stacy Hooper, Angie Lang, and Robyn Devora (Photo Courtesy of Lighthouse Photography, Buffalo Gap, TX)
Fall 2014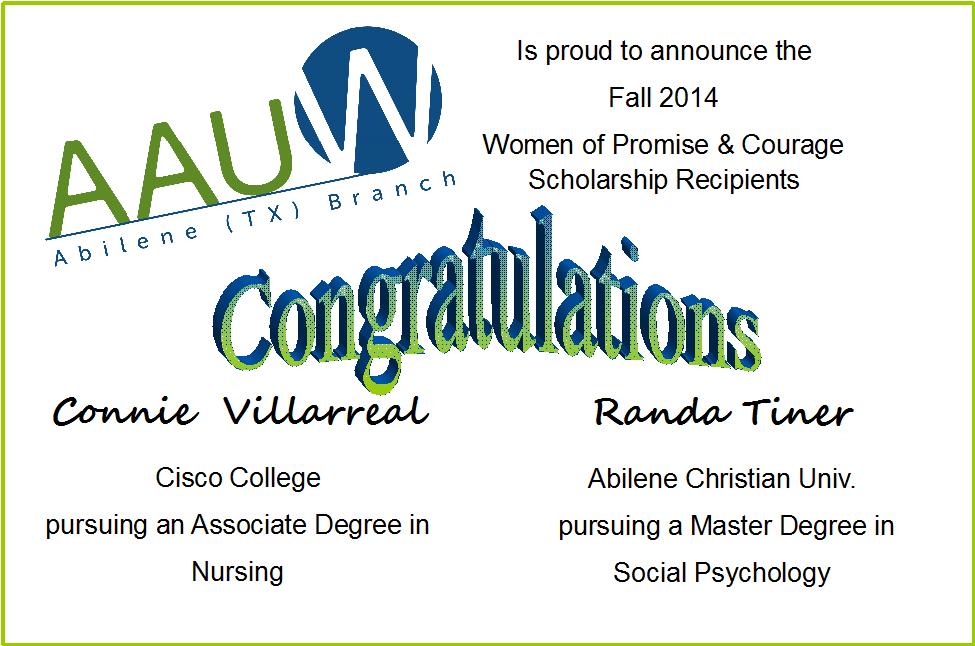 Spring 2014 
 Undergraduate Recipients
June Keith, Cisco College  – Nursing    
Shelia Carter, ACU – Biology/Education     
Misti Hauger, McMurray  – Business                  
Graduate Recipients 
Delores Javins,   TX Tech Health Sciences Center – Family Nurse Practitioner
Pamela Piersall,   ACU  –  Social Work

Educational Funding and Awards
AAUW has a long and distinguished history of advancing educational and professional opportunities for women in the United States and around the globe.
One of the world's largest sources of funding for graduate women, AAUW is providing more than $3.7 million in funding for more than 244 fellowships and grants to outstanding women and nonprofit organizations in the 2014–15 academic year. Due to the longstanding, generous contributions of AAUW members, a broader community of women continues to gain access to educational and economic opportunities — breaking through barriers so that all women have a fair chance.
Fellowship and grant recipients perform research in a wide range of disciplines and work to improve their schools and communities. Their intellect, dedication, imagination, and effort promise to forge new paths in scholarship, improve the quality of life for all, and tackle the educational and social barriers facing women worldwide.
WASHINGTON – The American Association of University Women (AAUW) will award $3.7 million in support of 239 scholars, research projects, and programs promoting education and equity for women and girls. Since awarding its first fellowship in 1888, AAUW has provided more than $90 million to more than 11,000 fellows and grantees from around the globe.
"AAUW's tradition of awarding monetary support to worthy candidates dates back to a time when institutions blatantly discriminated against women and the prevailing thought was that women did not belong in the nation's colleges and universities. Our founding leaders rejected that notion and vowed to help those who would follow them. The end result is one of our nation's greatest success stories of women helping women," said AAUW Executive Director Linda D. Hallman, CAE.
These fellows and grantees join a prestigious circle that includes trailblazers such as Nobel Prize-winning scientist Marie Curie and novelist Susan Sontag. It also includes many of today's leading thinkers and innovators, such as youth expert and author Rosalind Wiseman, economist Heather Boushey, and social entrepreneur Jane Chen. To find out more about this year's exceptional class of awardees, view the online directory of fellows and grantees when it goes live on the AAUW website on August 1.
"Each year, I am impressed by the outstanding level of quality of our fellows and grantees. This group is no exception," said Gloria Blackwell, AAUW director of fellowships, grants, and international programs. "The AAUW fellowship and grant program is a living testimony of the inspiring generosity of our members and donors, whose contributions allow us to offer one of the largest funding pools available exclusively for graduate-level women."
To reach an award recipient, contact AAUW at 202/728-7602 or fellowships@aauw.org.
To apply for an AAUW fellowship or grant, visit https://www.aauw.org/what-we-do/educational-funding-and-awards/. For application questions, contact aauw@act.org.
Give a Grad a Gift
***AAUW members can now give a recent grad—a friend, daughter, granddaughter, or niece—a free AAUW membership. At no cost to you or her!
Expose her to the power that comes from belonging to a national women-led organization of more than 100,000 members who believe in and advance equity and education for women and girls. Expand her networking opportunities through career development opportunities and community action projects. She will experience the rewards of working with and learning from successful AAUW mentors.
Keep her current on the events and people that affect her life as she receives Mission in Action, AAUW Outlook, Action Network alerts, and more.
Increase her buying power with access to discounted health and dental insurance, auto insurance, AAUW research reports, education loans and other members-only benefits.
Best of all, she will receive a free one-year AAUW membership at no cost to you or her! So send no money!
****Remember, only members can take advantage of this offer.**** Complete the online membership application now!
Download the application Grad Gift MS Word file
Abilene Branch Members
Your grad will receive a one-year member-at-large membership—a $49 value. She can join the Abilene Branch, AAUW for no cost but will be responsible for paying $10.00 Texas AAUW state dues. (Unless you choose to pay that for her.)