If the tumultuous 2016 election has taught us anything, it's that AAUW values and voices are needed now more than ever. We need to fight for change at all levels of government, industry, and academia. We need equal educational opportunities, equal pay for equal work, and workplaces free of discrimination. We need your strongest support today to make sure women's priorities are not forgotten. Are you with us?
AAUW is strategically positioned to be on the ground and in the halls of power, inspiring real action. We'll work with the Trump administration and elected leaders of both parties at every level on issues impacting women and girls. It won't be easy, and we need your help to do it. Will you please give a tax-deductible gift today to help AAUW keep these issues front and center with a new president and a new Congress?
AAUW, as always, will come to the table as a research-based critic and a respected ally to the White House and the administration's work on women's issues. We have a 135-year history as a nonpartisan organization working to advance gender equity and speaking truth to power. We've played a critical role in setting the agenda for city councils, statehouses, Congress, the White House, and even the United Nations. But we can't do it without your help.

Your support for AAUW will help break through barriers for women in government, in the workplace, and on campus. I hope you will donate today to empower female leaders in all fields. Thanks, as always, for your support.
Sincerely,
Lisa
Lisa M. Maatz
AAUW Vice President of Government Relations and Advocacy

Sign our Stand Up For Texas Women & Families Petition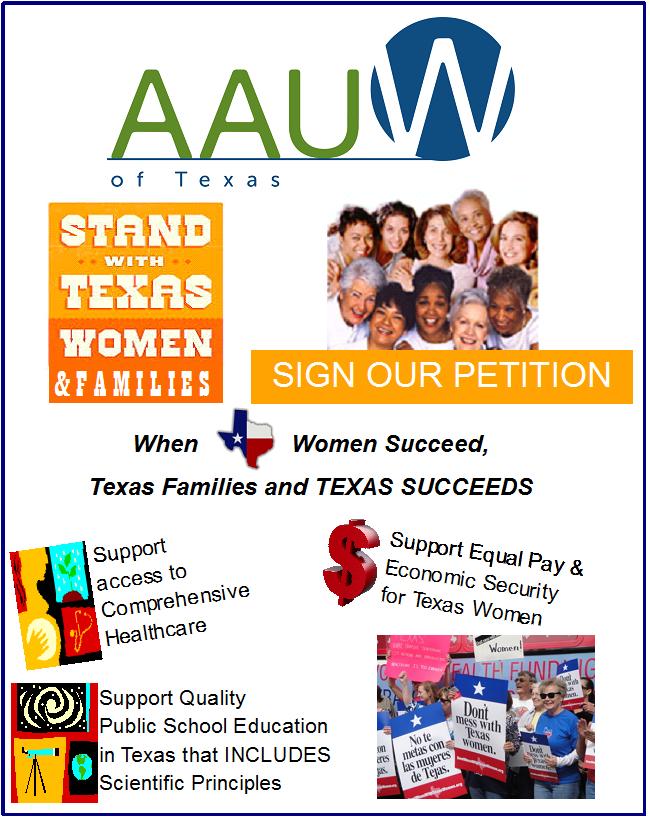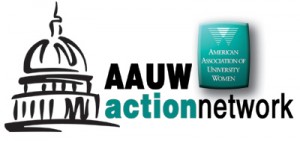 Take Action! Become a member of AAUW, and join a powerful network of educated women.
Continue the Fight for Pay Equity 
Wyoming State Rep. Gerald Gay (R-Casper) claimed the gender pay gap is a "fact of life" because women have a "dependability issue." Rep. Gay cited maternity leave and sick days as reasons that women may not show up for work.
AAUW's Simple Truth about the Gender Pay Gap report reveals new data
AAUW released the Fall 2016 edition of The Simple Truth about the Gender Pay Gap report. Based on the most recent U.S. Census data, women are paid just 80 cents for every dollar a white man is paid. The pay gap is even worse for women of color, as African American women only earn 63 cents and Hispanic women only earn 54 cents compared to their white male counterparts. The newly revised Simple Truth features earnings ratios by race/ethnicity, median weekly earnings by gender and age, and more. Plus, new for this edition, we discuss how the gender pay gap is connected to disability, sexual orientation, and gender identity. The report also includes strategies and solutions to close the pay gap designed for companies, individuals, and policy makers. Read the full report here – and post it on Facebook!
During the 2013 Texas Legislative Session, the Texas House of Representatives and the Texas Senate sent a bi-partisan Equal Pay Bill to Gov. Perry, which he vetoed. AAUW and AAUW Texas is not giving up the fight for Pay Equity.
Join AAUW Texas on Tuesday, April 14, 2015, as once again we remind the public of this issue and the need for Equal Pay to become law on the state and national level.
Remember: You can always help AAUW's efforts to strengthen women's economic security by making a tax-deductible donation to AAUW's Public Policy Fund!
Double your impact! Tweet, Facebook, and forward this action alert to friends and family.